What questions should you ask your wedding photographer?
When you're looking for a wedding photographer, you probably have all kinds of questions. Here are answers to some of the most common questions I get.
Q: How long have you been a wedding photographer?
A: I've been photographing weddings professionally since 2008. Before that, I worked as an assistant wedding photographer in Knoxville, Tennessee. I also have my degree in photography from The University of Tennessee, Knoxville.
I have both the skills to pay the bills and the experience to do something that rhymes with "experience."
Q: How much does wedding photography cost?
A: You can find a la carte pricing for elopement and wedding photography here. You'll also find pricing for albums, engagement and bridal sessions, and wall art.
If you're getting married at Chapel Dulcinea, you can find pricing information here.
Q: How many photographers will be at my wedding?
A: Weddings four hours and longer include two photographers—myself and an assistant photographer. I work with a few different assistant photographers, all of whom are professional, fantastic, and talented.
Weddings less than four hours—aka elopements—include one photographer. I can add a second photographer if it seems like the situation warrants it, but I am able to cover most smaller weddings by myself.
Q: How long in advance should I reserve my wedding date?
A: If you're thinking of having your wedding on a Saturday, then earlier is better. I often book popular Saturdays over a year in advance. Generally speaking, as soon as you've booked your venue, you should begin your search for a wedding photographer and put down a deposit as soon as you can.
Q: How can I reserve my wedding date?
A: Once you've decided you'd like to book me for your wedding, I'll send over an intake form to get your basic information. After that's finished, I require a signed agreement and a $500 retainer to reserve the date.
Q: What is your photographic style?
A: I try for a vibrant, colorful, photojournalistic style of wedding photography. I mainly photograph candidly to capture the true feeling of your wedding day, though I will also spend some time guiding and posing you for some more dramatic pictures. Please see my wedding portfolio for examples.
Q: What happens if you're sick on my wedding day?
A: Although I've never been sick enough to miss a wedding, it is a possibility that I cover in my agreement. If I am—for whatever reason—unable to photograph your wedding, I'll find and secure a replacement photographer of similar style and ability.
Q: My reception space is dark. Do you bring your own lighting?
A: Yes! While I typically photograph as much as possible with natural light, once the sun goes down I break out the off-camera lighting to make sure your reception photographs are as beautiful and clear as possible. I've photographed weddings in as many different lighting scenarios as you can imagine.
This image, taken in a nearly pitch-dark room at Mattie's, is a good example of what you can expect from me in terms of lighting your reception photos.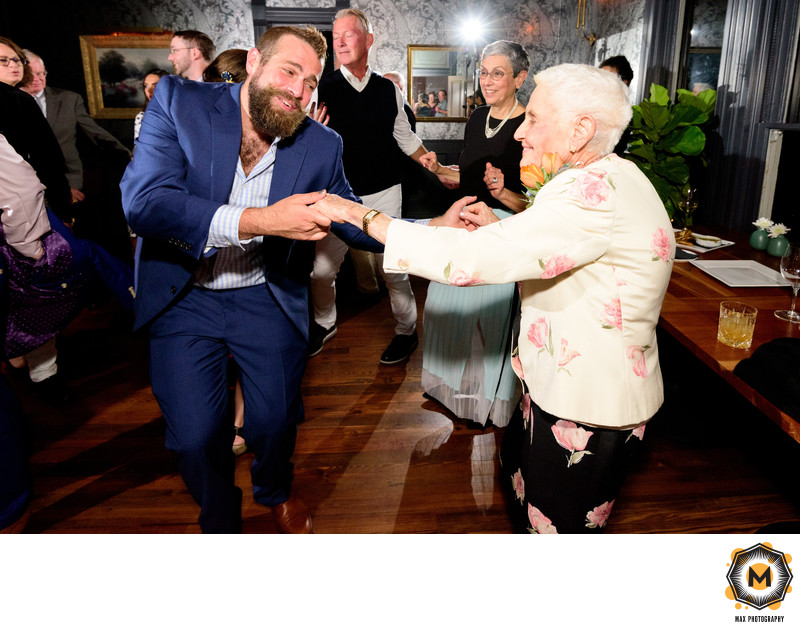 Q: Do you photograph small weddings?
A: I love small weddings and elopements! Due to the popularity of Saturday and Sunday weddings, I do have a six-hour minimum on Saturday and Sunday.
If your small Saturday or Sunday wedding is less than two weeks away and I still have the date available, I'm happy to photograph it!
Q: What happens after my wedding?
A: As soon as I finish up with your wedding, I upload all your photographs to my computer. With a large wedding, I may have 2,000-4,000 images between myself and my assistant photographer. I carefully cull the images, keeping only the best of the best (usually 80-100 photographs per hour of coverage).
I then edit each image, applying color-corrections, lighting adjustments, contrast and tone tweaks, cropping, and the like. As soon as that's done, I begin uploading the photos to my website and prepare a link for you to download.
If you have albums or wall art included in your collection, I'll begin work on those as soon as I give you a chance to look over your photos.
Q: How long does it take to receive my wedding photographs?
A: Every wedding is different, but you'll generally receive your finished photographs in 4-6 weeks. Weddings take longer during the busy months of March-May and October-December.
Q: Do you have my date available? I'm ready to book!
A: Contact me to find out!
Austin Wedding Photographer 3113 Jubilee Trl, Austin, TX 78748
(512) 964-8709 justin@maxphotography.com
Privacy Policy Terms and Conditions &copy 2020