Top Places to Propose in Austin


Hamilton Pool
24300 Hamilton Road Dripping Springs, TX 78620
(512) 264-2740
Hours of operation: 9:00AM-6:00PM
Fee: $26 per car (includes $11 non-refundable reservation fee required daily from March-October and on weekends and holidays from November-February)
Cash only
Parking: Included in day-use fee
Wheelchair accessible: No
Pets: No
Pros: The most beautiful spot to propose around Austin
Cons: Reservation-only for much of the year, gets extremely crowded, fee is for half-day only
Austin's not-so-secret secret grotto, Hamilton Pool is my absolute favorite place for wedding proposals. This place is unbelievably beautiful, especially when the water is flowing. A huge limestone grotto lined with ferns boasts a 45' waterfall that empties into a jewel-like emerald pool.
Solid shoes are a must. There is a steep and rocky quarter-mile trail from the parking lot to the pool. I wear tennis shoes and recommend you wear tennis shoes or hiking shoes.
The walk from the parking lot to the pool takes me about 10 minutes. Hamilton Pool's website suggests it takes 30 minutes. It will probably take you 15-20 minutes. Go slowly--it can be slick!
The most important thing to note is that Hamilton Pool is accessible by reservation only from March-October (and weekends/holidays from November-February). It gets crowded nearly every day. The best thing you can do when planning a proposal here is to show up exactly at 9:00 when they open the gates and head straight to the pool. I've done many proposal sessions here and getting to the pool at 9:25 means you'll have it nearly to yourself.
You can usually swim in the pool, though they will sometimes close it after heavy rains due to high bacteria levels.
Hamilton Pool is cash-only and there is not a close ATM. Make sure to bring your $15 in cash.
Fun fact: my mom and dad used to sneak into Hamilton Pool to camp back in the late 1970s. I've got roots here.
---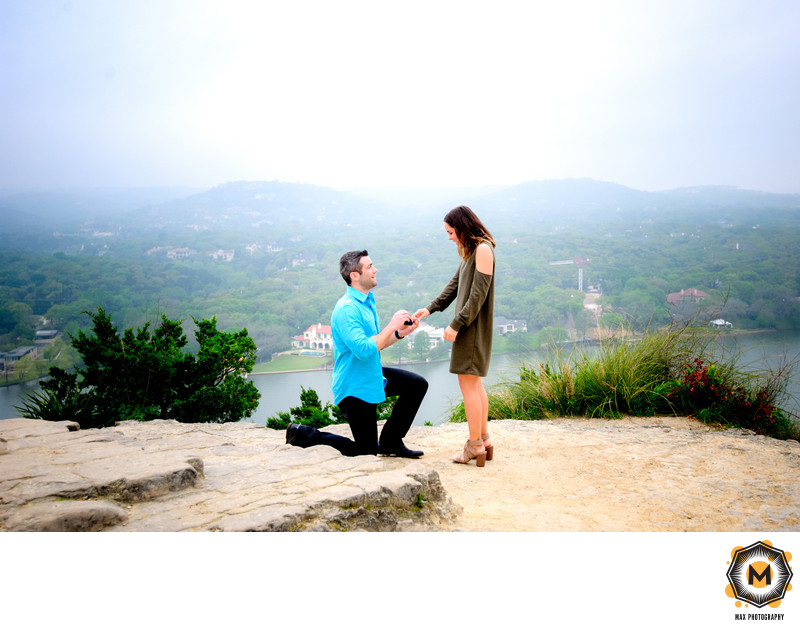 Mount Bonnell
3800 Mount Bonnell Rd Austin, Texas 78731
Hours of operation: 5:00AM-10:00PM
Fee: No
Parking: Free parking located along Mount Bonnell Road
Wheelchair accessible: No
Pets: Yes, on leash
Pros: Beautiful view, sunset
Cons: Can be crowded
Mount Bonnell (aka Covert Park) is Austin's highest point, at 775'. When we first moved here from Knoxville, Tennessee, a new acquaintance told us that Austin also had mountains and that we should check out Mount Bonnell. I'm sorry to report that Austin does not have mountains. However, Mount Bonnell is high enough to offer clear, beautiful views of Austin and Lake Austin as well as the surrounding hill country.
A tourist attraction since the 1850s, Mount Bonnell is still very popular today. Weekends can be a bit crowded, especially at sunset. However, the park is large and it's usually not too difficult to find a secluded spot for a wedding proposal.
Bring comfortable shoes as you'll be walking up 106 steps to get to the top. The steps are well-cared-for and there's a handrail.
If you're worried about crowds, a morning proposal is also an option here. The view faces west, but it's still very pretty in the morning.
It's very common to see photographers here, so your significant other won't suspect a thing.
---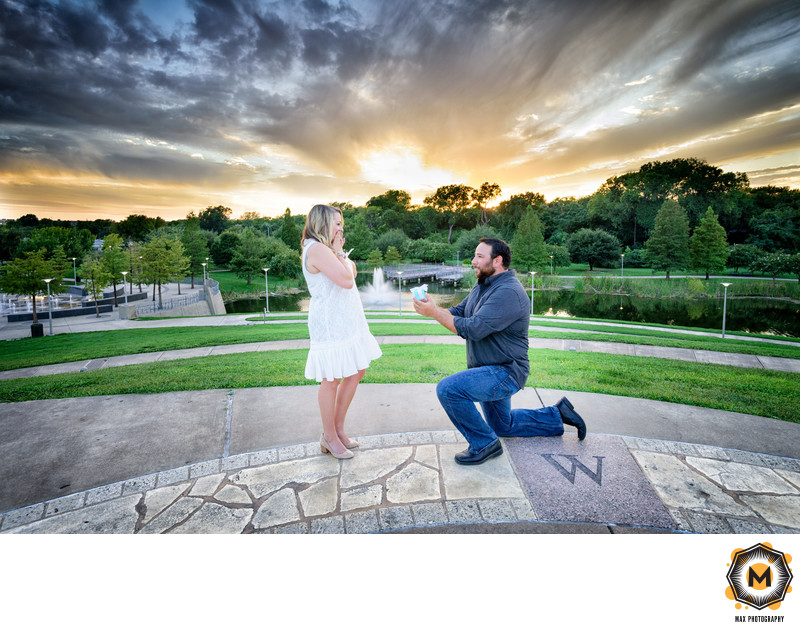 Austin Wedding Photographer 3113 Jubilee Trl, Austin, TX 78748
(512) 964-8709 justin@maxphotography.com
Privacy Policy Terms and Conditions &copy 2019