Top Places to Propose in Austin


Hamilton Pool
24300 Hamilton Road Dripping Springs, TX 78620
(512) 264-2740
Hours of operation: 9:00AM-6:00PM
Fee: $26 per car (includes $11 non-refundable reservation fee)
Cash only
Parking: Included in day-use fee
Wheelchair accessible: No
Pets: No
Pros: The most beautiful spot to propose around Austin
Cons: Reservation-only, gets extremely crowded, fee is for half-day only
Covid-19 Update: Hamilton Pool is now reservation-only at all times. You'll want to make a reservation as early as possible.
Winter Storm Update: Due to the strong freeze in February, the limestone overhang has become unstable. Hamilton Pool is not allowing people to walk under the overhang. This includes the waterfall. Unfortunately, this limits some of the photography options. There is also no swimming allowed until further notice.
Austin's not-so-secret secret grotto, Hamilton Pool is my absolute favorite place for wedding proposals. This place is unbelievably beautiful, especially when the water is flowing. A huge limestone grotto lined with ferns boasts a 45' waterfall that empties into a jewel-like emerald pool.
Solid shoes are a must. There is a steep and rocky quarter-mile trail from the parking lot to the pool. I wear tennis shoes and recommend you wear tennis shoes or hiking shoes. Do not wear, and don't let your significant other wear, heels, pumps, wedges,or any type of shoe without good traction.
The walk from the parking lot to the pool takes me about five minutes. Hamilton Pool's website suggests it takes 30 minutes. It will probably take you 10-15 minutes. Go slowly--it can be slick!
The most important thing to note is that Hamilton Pool is accessible by reservation only. It gets crowded nearly every day. The best thing you can do when planning a proposal here is to show up exactly at 9:00 when they open the gates and head straight to the pool. I've done many proposal sessions here and getting to the pool at 9:15 means you'll likely have it to yourself.
You can usually swim in the pool, though they will sometimes close it after heavy rains due to high bacteria levels. *Covid update: there is currently no swimming allowed until further notice.
Hamilton Pool is cash-only and the closest ATM is a 20-minute round trip away. Make sure to bring your $15 in cash.
Fun fact: my mom and dad used to sneak into Hamilton Pool to camp back in the late 1970s. I've got roots here.
---


Tau Ceti Mural
E 2nd St & Brazos St, Austin, TX 78701
Hours of operation: 24 hours/day
Fee: Free
Parking: Metered street parking and several nearby parking garages
Wheelchair accessible: Yes
Pets: Yes
Pros: Very dramatic, perfect spot for LGBTQ+ proposals, less popular than other Austin murals
Cons: Can be noisy with traffic, very public
Austin's tallest public artwork--at 103'--is the dramatic Tau Ceti mural on a corner of the Austin Convention Center parking garage. Hand-painted in 2018 by Transylvanian artist Josef Kristofoletti, the mural is intended to "reference unity and diversity."
It's a stunning location for a marriage proposal, especially for LGBTQ+ couples. It's also guaranteed to look amazing on your Instagram.
All of Austin's murals are popular spots for photos, but this one doesn't seem to be on too many people's radar yet. You won't find the same lines (and waits) as you might at the "I love you so much" mural at Jo's on South Congress.
Since it is on the corner of a busy intersection, you're likely to have an audience if you choose to propose here. A late-night proposal can help a bit with that.
---


Sekrit Theater
1145 Perry Rd, Austin, TX 78721
(512) 393-9161
Hours of operation: 6:00AM-10:00PM
Fee: 1 hour-$215; 2 hours-$300
Parking: There is easy and free street parking available in front of Sekrit Theater
Wheelchair accessible: Partial; certain areas of the venue are only accessible via stairs (including restrooms)
Pets: Yes
Pros: Probably the most eclectic and artistic spot in Austin for a proposal, reserved time means no other folks around, lots of beautiful and funky backdrops for photos, onsite air-conditioned restroom
Cons: Relatively expensive compared to other spots
Sekrit Theater (whose motto is "It's a Sekrit...tell all your friends!") is a funky paradise within an unassuming east Austin neighborhood. You won't find anything else like it in Austin--or anywhere else.
Opened in 2009 by Beau Reichert, a former art director and antique store owner, the grounds feel like a mashup of Pee-Wee's Playhouse and a formal Italian garden. Everything is constructed and placed with an artist's eye and an obvious attention to detail.
The black-and-white checkerboard-tiled greenhouse is the star, and is where I'd recommend proposing, but the rest of the property is absolutely bursting with amazing vignettes that are perfect for posed photos. There are opportunities to capture the sunset streaming dreamily through the trees as well as sights like a clawfoot bathtub sitting out-of-place in a woodsy nook.
Although it's more expensive than other proposal spots that I recommend, you do have the space to yourself for the 1-2 hour rental. The greenhouse looks fantastic decorated, and nobody is going to come around and potentially mess with the setup before you propose. It's also a real jaw-dropper of a location, so it's going to look great on your Instagram.
---


Lady Bird Lake/Texas Rowing Center
1541 W Cesar Chavez St, Austin, TX 78703
Hours of operation: 6:00AM-7:30PM
Fee: $20-$25/hour
Parking: Street parking located along Stephen F. Austin Dr.
Wheelchair accessible: No
Pets: Yes
Pros: Amazing views, very unique spot for a proposal
Cons: A bit of a paddle to get to the best view for photos, arguably better at sunrise
Lady Bird Lake (formerly known as Town Lake) is one of the crown jewels of Austin. And what better way to incorporate it into your proposal photos than to be in the middle of it?
Although you don't need to rent a canoe, kayak, or stand-up paddle board from Texas Rowing Center, it's a great spot to start (and you can launch your own boat from their dock if you happen to have one). Their rentals are inexpensive and the staff has been friendly and knowledgeable when I've gone. They also have a huge fleet, so there's no need to make a reservation.
Sunrise photos on the lake are amazing, with the sun coming up from behind the city. It's especially nice to do sunrise in the summer so that the temperature doesn't have a chance to get outrageous. Sunset is great as well, though, and being on the water does help mitigate the heat.
Lou Neff Point, where Barton Creek empties into Lady Bird Lake, is the perfect location to do the proposal. It's about 3000' from the rowing dock, so you won't be exhausted by the time you get there. It's also close enough that it's easy to row back to get some photos on land after the proposal. The hike and bike trail goes through the dock, so it's a great spot for extra shots.
I've done a canoe proposal, now I'm ready for a stand up paddle board proposal! Hit me up and we'll make magic happen.
---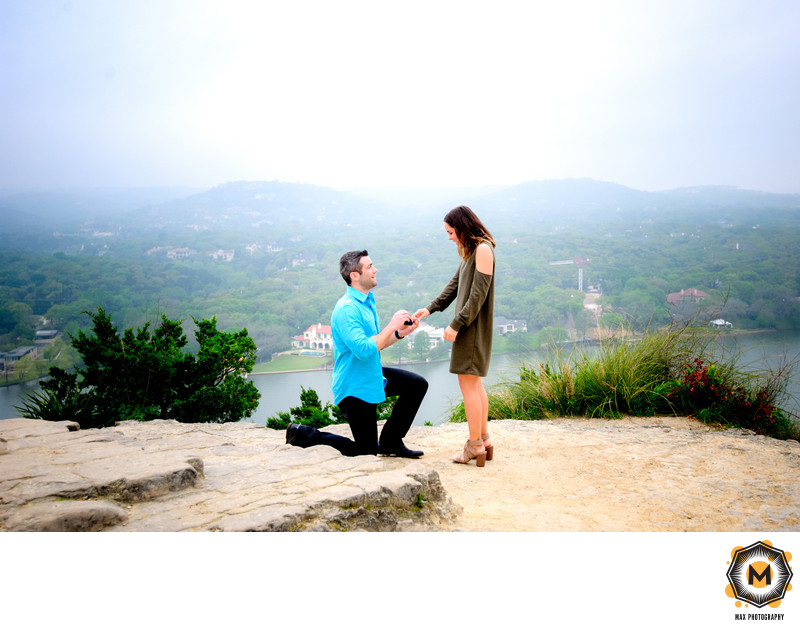 Mount Bonnell
3800 Mount Bonnell Rd Austin, Texas 78731
Hours of operation: 5:00AM-10:00PM
Fee: No
Parking: Free parking located along Mount Bonnell Road
Wheelchair accessible: No
Pets: Yes, on leash
Pros: Beautiful view, sunset
Cons: Can be extremely crowded
Covid-19 Update: Mount Bonnell feels more crowded than it has in the past. I suspect this is due to people wanting to get outside more and Mount Bonnell feels like a relatively safe place to do so. Weekends--and even weekdays--are incredibly crowded, to the point that it's difficult to find a private spot to propose. This makes planning with your photographer very difficult.
Mount Bonnell (aka Covert Park) is Austin's highest point, at 775'. When we first moved here from Knoxville, Tennessee, a new acquaintance told us that Austin also had mountains and that we should check out Mount Bonnell. I'm sorry to report that Austin does not have mountains. However, Mount Bonnell is high enough to offer clear, beautiful views of Austin and Lake Austin as well as the surrounding hill country.
A tourist attraction since the 1850s, Mount Bonnell is still very popular today. Weekends can be a bit crowded, especially at sunset. However, the park is large and it's usually not too difficult to find a secluded spot for a wedding proposal. *Update 2/2021: Mount Bonnell is now extremely crowded on weekends and even weekdays. It's frankly hectic to try to coordinate a proposal here.
Bring comfortable shoes as you'll be walking up 106 steps to get to the top. The steps are well-cared-for and there's a handrail.
If you're worried about crowds, a morning proposal is also an option here. The view faces west, but it's still very pretty in the morning.
It's very common to see photographers here, so your significant other won't suspect a thing.
---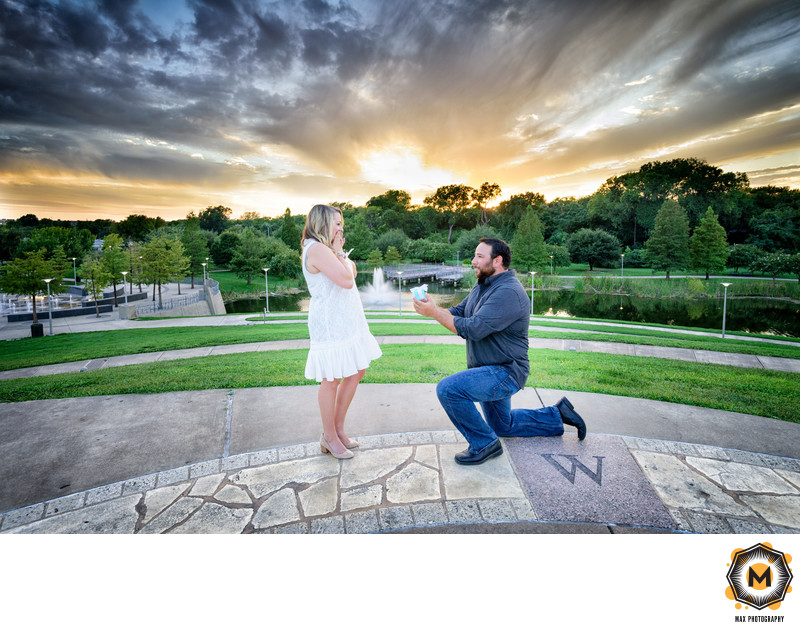 Butler Park
1000 Barton Springs Rd, Austin, TX 78704
(512) 477-1566
Hours of operation: 5:00AM-10:00PM
Fee: No
Parking: Some parking at Dougherty Arts Center (in the back lot), some parking along Riverside Drive across from Auditorium Shores, overflow parking south on Dawson Road
Wheelchair accessible: Yes
Pets: Yes
Pros: A beautiful location for a surprise marriage proposal, with occasional incredible sunsets, downtown skyline views, lots of great locations for photographs
Cons: Can be very crowded, insufficient parking, almost-unusable restrooms
Butler Park has long been one of my favorite places in Austin to photograph couples. It's a great spot for a marriage proposal as well.
The park boasts one of the best views of the Austin skyline and Doug Sahm Hill is maybe my favorite place to watch the sunset in Austin. There's also a pretty pond with photogenic docks and The Long Center is just a short walk away.
If you're planning a secret engagement proposal here, you do need to be mindful of the crowds. Saturdays and Sundays will find Butler Park totally packed with families, photographers, and dog walkers. Planning your proposal for a weekday here would be a wise decision.
You should also note that parking is routinely difficult here. I typically try to park at the back of the Dougherty Arts Center; if no spots are available I drive south on Dawson Road and park along the street. Give yourself an extra 15 minutes to account for finding a parking space.
---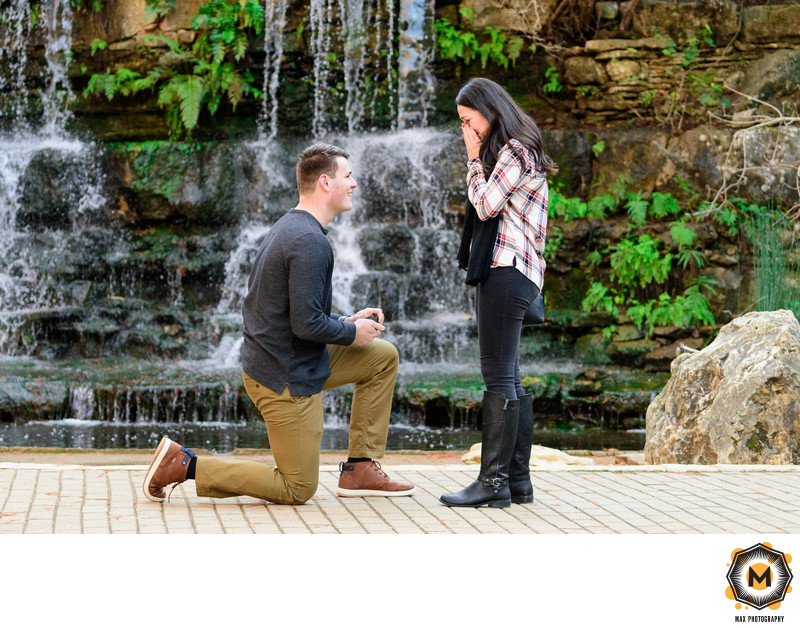 Zilker Botanical Garden
2200 Barton Springs Rd, Austin, TX 78746
(512) 477-8672
Hours of operation: 9:00AM-5:00PM
Fee: $50 photography session fee + $6-8 entrance fee
Parking: Plenty of parking
Wheelchair accessible: Yes
Pets: Yes
Pros: Beautiful any time of year, tons of lovely spots to propose, plenty of space so it rarely feels crowded
Cons: Early closing time means no sunset photos much of the year, relatively expensive photography fee
Covid-19 Update: Zilker Botanical Garden is now reservation-only to keep crowds manageable. Tickets are purchased online to reserve your date and time window (there are hourly entry windows all day from 9:00 to 3:00). Masks are no longer required at the garden. Many of the pathways at the garden are now one-way to make social distancing easier.
I love photographing surprise engagements at Zilker Botanical Garden. It's a hidden jewel in the heart of Austin and has so many different areas that are perfect for proposing to your sweetie.
Although the $50 photography fee might scare some folks away, it also means that there aren't a million photography sessions going on at the same time as your proposal. I think it's well worth it. There's also plentiful parking, which is a huge plus for a central location like this.
My favorite areas in the garden are the waterfall in the prehistoric garden, the terraced rose garden, and the Japanese garden.
---


Chapel Dulcinea
16221 Crystal Hills Dr, Austin, TX 78737
https://chapeldulcinea.org
(512) 394-0226
Hours of operation: 8:30AM-8:30PM (M-Th only for proposals)
Fee: $200
Parking: Plentiful lot parking
Wheelchair accessible: Yes
Pets: Yes
Pros: Gorgeous chapel and grounds, amazing sunsets, free, very private
Cons: Reservation-only, available only Monday-Thursday for proposals
Chapel Dulcinea, Austin's only free wedding chapel, also makes for an amazing proposal spot. I've been out there for more weddings than any other venue and it's always magical (though sometimes really hot).
Built in 2005 to help support couples who couldn't afford to have a traditional dream wedding, the chapel sits on the edge of a limestone cliff overlooking the hill country (and, increasingly, a bit of construction). The grounds are beautifully landscaped and are especially lovely in the spring, when wildflowers are in bloom along the winding pathways.
The chapel itself makes for the most impressive proposal spot, and the surrounding grounds are perfect for the mini-session afterward. As a bonus, there's a whiskey distillery--Fang & Feather--onsite, which is a great cover story so your significant other doesn't question why you're taking them to a wedding chapel.
Since it's reservation-only, you'll be the only ones allowed in the chapel during the 1.5-hour time slot. This makes it one of the most private spots around for a proposal. I highly, highly recommend trying to book around sunset.
Another really nice feature here is the gas lamps. You can sponsor them in your name or the name of a loved one for $25; the sponsor's name will appear on a sign near the chapel. They're beautiful in the evening.
Austin Wedding Photographer 3113 Jubilee Trl, Austin, TX 78748
(512) 964-8709 justin@maxphotography.com
Privacy Policy Terms and Conditions &copy 2023