Photo Booth Frequently Asked Questions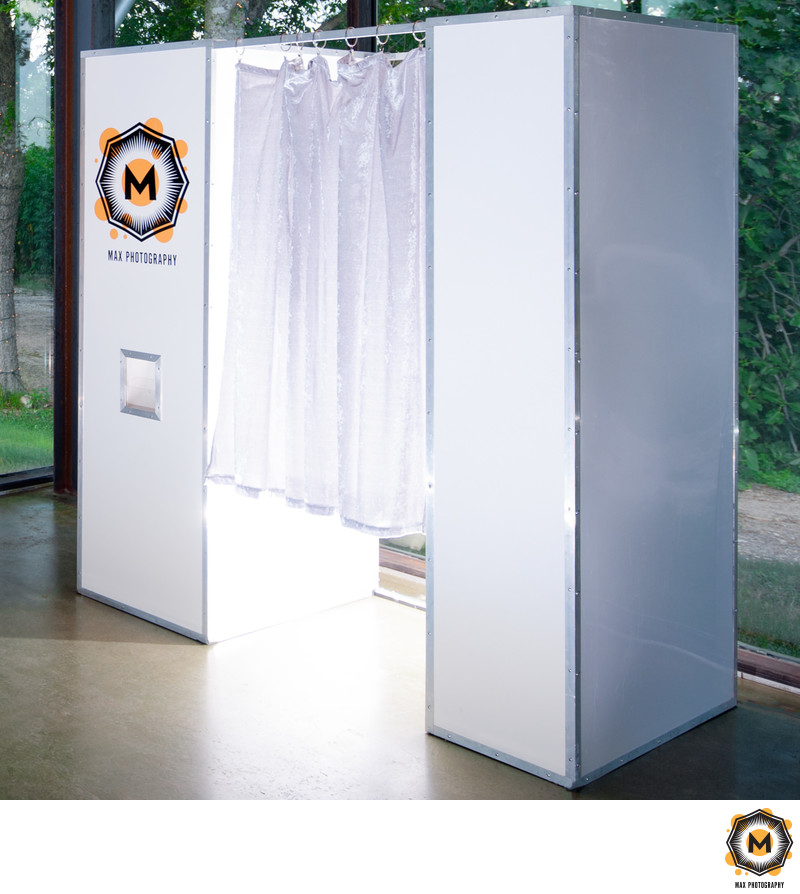 Q: What does a photo booth rental include?
All photo booth rentals include the following:
Free set-up and take-down
Unlimited sessions
Props
Triple 2"x8" photo strips
Your logo or monogram on each strip
Online hosting of the photos
Thumb drive of all photos
Q: How does the photo booth work?
A: Grab some friends, push aside the curtain (I've got several curtain colors available), follow the on-screen instructions, primp and preen while checking yourself out on the screen, and let the booth work its magic. Vogue. Step out, laughing hysterically, and collect your prints—there are three copies printed with each session. Rinse and repeat. After the party, check online for all the pictures from the night; they're all uploaded to Facebook. Do anything you want with them—print them big, share them on Facebook, freak out Grandma.
Q: How big is the photo booth? Will it fit on my favorite elevator?
A: The booth is 6′ wide x 3′ deep x 6.5′ tall. It breaks down into several manageable pieces, and will fit on your favorite elevator. Stairs are more complicated. If your venue has stairs, please let me know beforehand.
Q: What's the photo booth made of? Will it go with my drapes?
A: The booth is made of glossy white plastic and aluminum. It looks a little like if Apple designed a photo booth. I also have several colors of curtains.
Q: How do the pictures compare to a traditional photo booth?
A: Light years ahead. The secret sauce is my professional lighting system, which I use to achieve gorgeous, flattering images, which are both saved for later viewing and printed using a speedy high-end dye-sublimation printer. That's the same type of printer used in photo labs- quick, reliable, and most importantly, capable of printing beautiful images. I'm confident enough to say that you won't find better photos in any other photo booth. I have my degree in photography, and I designed and built the booth to take the best possible pictures.
Q: What does a photo booth rental cost?
A: Please check out my photo booth pricing here.
Q: Can I include our custom logo or monogram on the strip?
A: Absolutely! In fact, I encourage it. It makes each strip a perfect souvenir. Also, it's free free free. For those of you who know what you're doing, I need a 2"x2" image at 300dpi, preferably in JPEG format.
Q: Is the photo booth haunted?
A: No, unlike our competitors' photo booths, our booth is regularly exorcised, and contains no spirits, ghosts, poltergeists or haunts.
Q: I've got a specific date in mind. How do I reserve it?
A: Just use the contact form below and I'll get the ball rolling. Once you fill out and sign the agreement and pay the 50% deposit, I'll save the date.
Q: Do you charge for delivery?
A: Delivery is free within 50 miles of my home-base in South Austin. Delivery within the San Antonio area is also free. From 50-100 miles I charge $4/mile. I do not operate outside of a 100-mile radius.
Need more information? Contact me today!
Austin Wedding Photographer 3113 Jubilee Trl, Austin, TX 78748
(512) 964-8709 justin@maxphotography.com
Privacy Policy Terms and Conditions &copy 2023