Engagement Photography FAQ
Engagement Session Frequently Asked Questions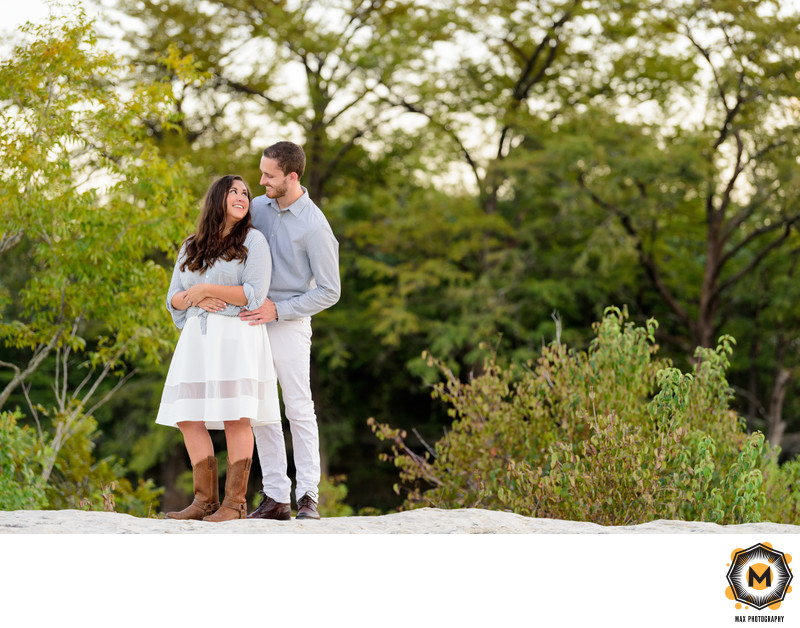 Q: Can I purchase an engagement session by itself?
A: While it's my professional opinion that engagement photography is always better with some amazing wedding photography to go with it, you can absolutely purchase an engagement session separately.
Q: What is your engagement photography style?
A: My style is often described as vibrant, colorful, and natural. Please check out my engagement photographs for examples.
Q: What are some good locations for engagement photography?
A: The best answer is any location that is meaningful to you as a couple. My favorite engagement photographs are the ones that come from a place of authenticity and if you're in a place that holds feelings for the two of you, that's going to come through in the pictures.
The second-best answer is someplace that is ideally a) beautiful, b) interesting, and c) not very crowded.
Natural engagement spots that I love are Butler Park, McKinney Falls State Park, the Austin Botanical Garden, and Landa Park in New Braunfels.
More urban engagement locations that work really well are South Congress, The Long Center, and the Texas State Capitol.
Q: What is the best time of day for an engagement session?
A: The best time of day to take engagement pictures is the golden hour! About an hour before sunset, the light loses some of its strength and gets that gorgeous golden hue that adds drama to photographs. Starting then also affords the opportunity to capture a killer sunset, if we get lucky enough for that.
Q: What is the best day of the week for engagement photography?
A: Any day but Saturday! Really, if you're able, engagement sessions during the week are the absolute best. Crowds in Austin can be an issue even in the most relatively unknown spots so scheduling your session on a weekday is going to be the best form of crowd control.
Q: Should I bring a change of clothes?
A: Bringing a second outfit can make a big difference in the amount of variety in your photos. Even in different locations, poses can start to feel very similar. Having a change of clothes on hand can help to break things up.
You do want to consider location if you decide to bring multiple outfits. Not all places will have a clean restroom for changing, so you may end up changing in the car.
Q: Will you help us pose?
A: Don't worry. Most people have little to no experience with professional photography. My job is to make things as easy and fun (or at least painless) as possible. I'll help with your positioning, but the main thing I'm going for is your relationship with each other.
Q: I'm nervous!
A: That's not a question, but I can't complain since I'm the one writing these. If you're nervous, do whatever you need to do to relax beforehand. If you drink, go out for a cocktail. Even the most nervous of couples end up having fun by the end of the session.
Q: How much does an engagement session cost?
A: Check out my engagement photography pricing here.
Austin Wedding Photographer 3113 Jubilee Trl, Austin, TX 78748
(512) 964-8709 justin@maxphotography.com
Privacy Policy Terms and Conditions &copy 2023
Engagement Photography FAQ